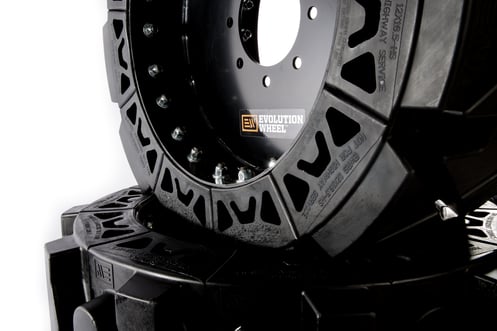 When it's time to choose new tires for your skid steer, you surely see the common option of solid skid steer tires. What you might not know is that there are differences between the solid skid steer tire options that go beyond brand alone. These differences are quite strong, especially when it comes to segmented solid skid steer tires.
What are segmented solid skid steer tires?
Simply put, segmented solid skid steer tires are made up of several pieces, or segments, that are held onto the rims by an internally moulded bolt system. Regular solid skid steer tires, on the other hand, are single doughnut-shaped pieces. The segmented version is by far the superior option, and here's why.
What makes segmented tires so special?
The first advantage stems from the fact that solid skid steer tires rarely wear out all at once. Instead, it's more typical for just one part to be damaged. Sources of such damage include running over rebar, jagged concrete chunks, and other such hazards.
With a non-segmented solid skid steer tire, the only option is to throw the entire thing out and start again.
With segmented solid skid steer tires you need only replace the damaged segment. And this is done at a fraction of the cost to replace the whole solid skid steer tire.
Spare segments can be kept with the machine or on the jobsite so you can quickly make a repair and get up and running again without the need of specialized equipment or training.
Is it easy to change out the segments?
It certainly is!
Each segment on an Evolution Wheel solid skid steer tire is held on by four nuts and bolts. When it's time to change a segment, all you need to do is unbolt them and take off the old segment.
The new one will go on easily and, in most cases, can be done without removing the tire from the machine. This means you can quickly get back to work with little downtime, and the operator can make the repair themselves.
Are there other advantages to the Evolution Wheel brand?
Yes, and they're important ones!
Evolution Wheel's segmented solid skid steer tires are built with the tallest and widest lugs in the industry. This makes it so they hold their positions on inclines and other challenging terrain better than their competitor's. This also gives you increased traction, wear life and productivity. The Evolution Wheel solid skid steer tires are also made without center wear bars found on any other solid skid steer tire. This provides traction to the machine throughout the entire life of the tire unlike other brands that will start to spin at 50% wear because of the center wear bars. This change greatly extends the tire's life.
A segmented solid tire also offers a greater ability to design a slightly compressed ride into the tire. This improves operator comfort and reduces fatigue, so longer hours can be worked without getting tired and sore. However, Evolution Wheel has made sure that the tires are still strong enough to move heavy loads and retain their durability.
Retreading your tires
Eventually, even the best brand of segmented solid tires will wear out. When that time comes, you still don't have to buy new ones. Instead, take them to an authorized dealer to get all new segments to install on your existing rim.
Either the dealer can do the install for you or you can do it yourself. The cost of replacement is far less than that of buying entirely new tires because you are able to re-use your current rim.
Conclusion
Thanks to all of these benefits, Evolution Wheel's segmented solid tires offer clear advantages over other options available on the market. They're built better, they last longer, and they have lower operating costs. They're also easy to repair in the field thanks to the availability of separate replacement segments. Even full retreads of the tires are cheaper than buying entirely new ones.
The next time you need new tires for your skid steer, contact Evolution Wheel and they can recommend the best fit for your application to get the most out of your tires. Your crew will thank you and so will your wallet.