Solid skid steer tires are made from special compounds and are not filled with air. They are perfect for use in many commercial applications and are commonly found in mining, rock quarry's, demolition, waste transfer stations, general construction and anywhere else that flat tires are prevalent. A good quality solid skid steer tire is usually made from high-grade rubber compound ingredients, which are slightly different from normal tire compounds used in typical pneumatic tires.
There are a few differences between ordinary tire materials and the ones that are used to make solid skid steer tires. Here we discuss some important elements that truly describe a high-quality solid skid steer tire.
Natural Rubber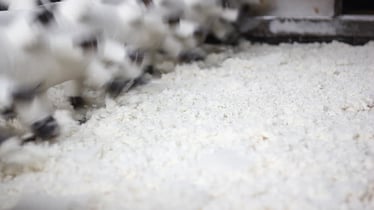 Solid skid steer tires are prepared from a mixture of ingredients that have a much higher proportion of natural rubber. This composition is different from a common tire, which can be prepared using a higher percentage of synthetic rubber compounds.
Solid skid steer tires face a lot more wear and tear because they are typically found in more severe environments. Natural rubber increases the wear properties of the rubber compound so you get more life out of your solid skid steer tires.
Not all natural rubbers are created equal though. Many different quality grades are available and as such have a different cost. There is really no way around this; higher quality solid tires will cost more simply because they cost more to make.
Carbon Black
Another key ingredient in the rubber compound of solid skid steer tires is carbon black. This ingredient is often overlooked by customers in the industry when purchasing solid skid steer tires because of the importance natural rubber plays.
Carbon black is a key ingredient responsible for increasing tire wear life and specifically cut resistance which reduces chunking. Similar to natural rubber, carbon black comes in a variety of quality grades.
If a solid skid steer tire manufacturer is combining a high grade natural rubber with a high grade carbon black, the tire cost will be higher but the performance and wear results will be far superior.
Mixing Compounds
Some solid skid steer tire companies may mix high-grade rubber compound ingredients with lower grade ones to keep costs down. Or some companies may not use any high-quality ingredients at all and sell an inexpensive product. Deespite this lower cost, this means that as a customer you get a low-quality product which will simply not be up to the task to ensure that you can use it in an industrial application. Common problems associated with a low quality solid skid steer tire are premature tire wear and chunking issues.

Where is it
Made?
Although you can get solid skid steer tires from around the world, there are many differences in quality. Solid skid steer tires that you get from countries such as China will simly never compete with the quality of solid skid steer tires manufactured in North America. In North America you'll find better working processes, more attention to detail, better technology, and the use of higher quality rubber compound ingredients among other advantages.
As a standard rule of thumb solid skid steer tires that come from China, Indonesia and the Asia-Pacific region will have rubber compound consistency issues which means that the results you will experience in wear, cracking and chunking with these products will be very inconsistent. For this reason, be sure to ask where a solid skid steer tire is manufactured before you purchase it. Also, make sure that's what it says on the product when you get it. Just because a company is based in North America doesn't mean the product they sell is entirely made in North America. Parts or most of it can have been made and imported from overseas and still be labeled as a North American product.
Made for the Climate
A common issue with solid skid steer tires you will hear about is how rough of a ride they are in cold weather. This all comes back to the original rubber compound formula used by the solid skid steer tire manufactures when making their tires. There is an additive that can be mixed with the rubber to prevent/reduce the stiffening of the rubber compound at colder temperatures.
This however is an added cost. Only a small percentage of manufacturers will include this additive to their solid skid steer tire compound to reduce stiffening at colder temperatures. While stiffness in the ride of a skid steer tire can become a concern in cold temperatures because of the missing additive in the compound, chunking can be an even bigger concern as it occurs more frequently in cold weather.