Recent Posts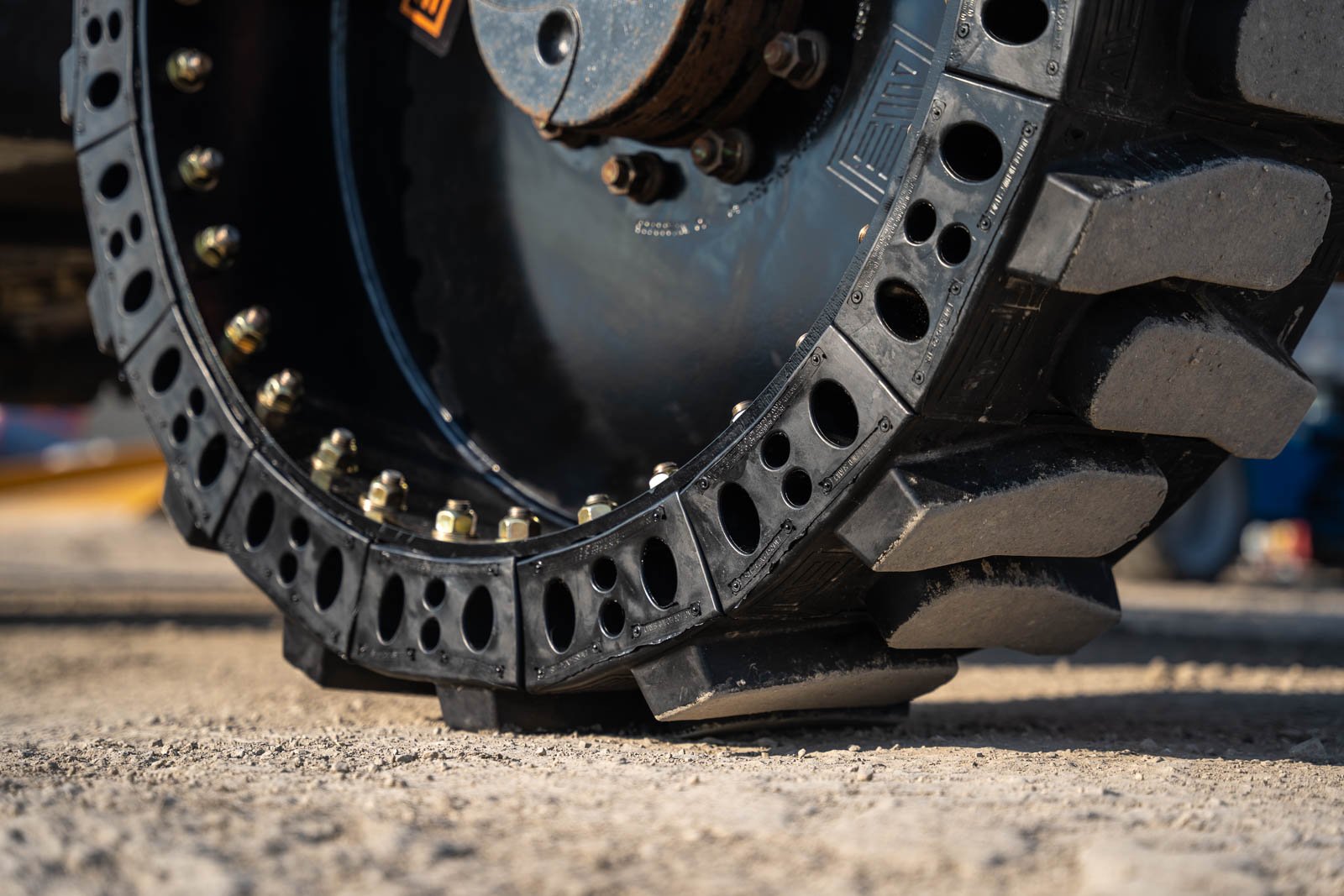 Telehandlers or telescopic forklifts are one of the most versatile machines on the job site
. Combining the functionalities of a forklift and a crane, they can move heavy loads where they need to go.
Being a wheeled machine, the tires used on telehandlers are critical. They
Pneumatic Telehandler Tires
Pneumatic telehandler tires are the cheapest option on the market.
They are effective for light work but don't work as well in more severe-duty applications like construction
.
A flat tire in these conditions can be
dangerous, especially when traveling with heavy loads
.
Foam-Filled Telehandler Tires
Foam-filled telehandler tires
are pneumatic tires filled with foam rather than air. This allows them to be puncture resistant and safer on a construction job site. The foam adds weight to the tire providing more traction but sacrifices floatation.
However
, foam-filled telehandler tires do not flex as a pneumatic tire would. The foam within the tire is stiff, resulting in a rougher ride for the operator. They're also susceptible to sidewall damage. When sidewall damage gets severe enough, the foam gets squeezed out the side of the tire.
The hobbled tire provides an uneven ride which is dangerous when carrying heavy loads
.
Solid Telehandler Tires
Solid options are the more expensive option on the market
however
they will never go flat. Since they aren't filled with air, they don't get damaged the same way a foam-filled or pneumatic tire does. They can
be driven
over nails and debris without losing any functionality.
Because solid telehandler tires don't use air and foam, they don't have a problem with excess bouncing. The stability this offers to operators makes them popular as it is safer on the job site.
An Example of a Solid
Cost
A Premium option like the EWRS-TH Series will cost more upfront,
however
, will save your money in the long run.
In the long run, foam-filled or pneumatic tires that keep rupturing will cost more than premium solid tires for telehandlers
.
Time
The time spent servicing tires costs money. Not only do you have to pay for maintenance or new tires, but the time wasted dealing with them can be costly as well. Prolonging jobs is unacceptable with deadlines. This is why solid tires are becoming more common on job sites. Solid telehandler tires are less prone to damage.
If you get a segmented option like the EWRS-TH Series, you won't have to worry about downtime due to damaged tires again
.
Safety
The one most important feature of a telehandler tire is safety. Same as any other piece of equipment on the job site. A flat tire on the job site can be very dangerous, especially when carrying heavy loads. A tire that isn't stable creates a dangerous environment.
Solid tires
are designed
to handle heavy loads while operating in severe conditions so you can trust they won't fail on you
.
Performance
Solid tires are safer and more cost-effective than other options while also performing better
. The EWRS-TH Series
is designed
to
predictably
compress when carrying heavy loads.
The large lugs increase traction and longevity on abrasive surfaces while being damage resistant
.
On a construction site, using the right tool for the job is an absolute must. The same is true for tires. Using a safer, cost-effective, reliable option will increase your ROI and
overall
performance.
Read More
Topics: solid telehandler tires, airless telehandler tires, solid tires for telehandlers, 14 x 24 telehandler tire, all terrain telehandler tire