Your skid steer loader may be one of the most important machine used within your daily operations. Particularly when it's used as a yard machine, your skid steer is going to be working on and off concrete. This is why choosing a quality bobcat tire will ensure that you have what's needed to support your machine for everything that you want it to do.
Whether you are using your skid steer in a landscape supply yard, gravel and paving stone supply yard, or any other business, you need to look at what you're expecting the machine to drive over and through on a regular basis. You may be having it dig into dirt and then drive into a warehouse. Going on and off concrete/hard surfaces can result in a significant amount of wear on bobcat tires.
Look at Hard Surface Bobcat Tires
Hard surface bobcat tires make a significant difference. Your best option is to look at solid bobcat tires so that you don't have to worry about tire punctures. There may be all sorts of things that your skid steer operator could drive over such as rock, nails, wood, and even metal which could lead to puncturing your bobcat tires and increasing costly downtime. It happens all the time and replacing bobcat tires may be something that you are simply tired of having to do and pay for.
Choosing a solid bobcat tire allows you to drive on hard surfaces more effectively with less downtime. You don't have to worry about puncturing your bobcat tires, therefore allowing you to get the job done more effectively and economically.
Consider a Deeper Tread
It's also important to look at tread depth when you are choosing a bobcat tire for a yard machine. Many bobcat tires have a relatively low tread depth, which results in shot wear life and more frequent replacements. The main issue with low tread depth is a lack of traction and increased risk of punctures and costly replacements.
Evolution Wheel fixes this problem by providing a 52/32nd tread depth so you can use it on hard surface applications without having to worry about insufficient tread. It will also allow your bobcat tires to last longer so that you can focus on your operations as opposed to constantly replacing worn bobcat tires.
Explore Wear Levels
Consider how often you are replacing your bobcat tires due to excessive wear. Wearing out tires means more time is spent ordering and replacing worn out bobcat tires. This means your costs increase due to repairing or replacing bobcat tires more often, as well as the time your operators spend fixing or replacing tires rather than working on site, as well as the cost of your skid steer's downtime.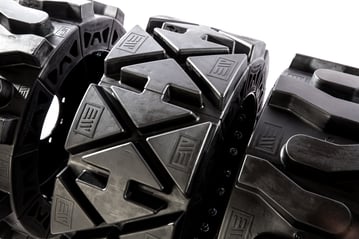 Evolution Wheel offers a solid bobcat tire that delivers a longer wear life. What this means is that you'll reduce the amount of money spent on bobcat tires throughout the year. It will also allow you to keep the machines working within your operations for longer periods of time so that you don't have to sideline a machine due to flat or worn out bobcat tires. By avoiding flat bobcat tires you not only enhance your productivity but more importantly you increase your bottom line.
When your skid steer sees a lot of yard time, you need a bobcat tire tread design with increased surface area that comes into contact with the ground. The EWRS-HS series of solid hard surface bobcat tires does just that. For more information about solid bobcat tires, give Evolution Wheel a call and one of our qualified tire experts will help you select the right bobcat tire for your machine.