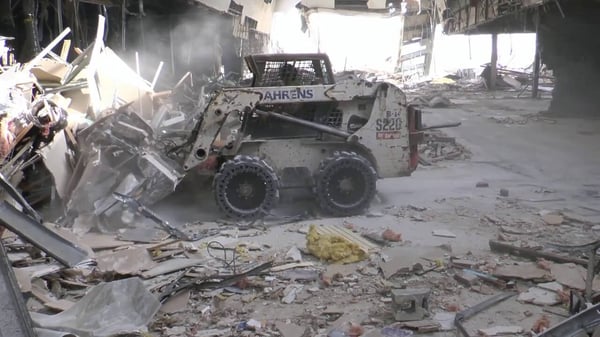 The demolition industry is a vital part of any city or town's growth. Old, outdated, or dangerous buildings must be torn down to make way for new and modern construction. It's tough and messy work, requiring strong people and even stronger equipment. Demolition sites are often hazardous, with many liabilities not just for worker safety, but also for damage to excavators, loaders, skid steers, and other necessary heavy machinery. Demo is particularly tough on pneumatic bobcat tires, potentially leading to a high cost for the contractor who must deal with frequent bobcat tire repair and replacement.
Bobcat Tires for Outdoor Demolition Jobs
Outdoor demolition includes building tear-downs, scrap cleanup, and tearing out concrete slabs and foundations. These work sites are risky for humans and machines alike. Demolition workers must not only take care to follow all safety precautions to avoid accidents and injuries, but they also must be mindful of the capabilities and limitations of their machinery on such rough surfaces.
One of the most common problems for skid steers on outdoor demo sites is handling the rough, uneven terrain. These sites are often piled high with chunks of concrete, shards of broken glass, lengths of sharp rebar, and other dangerous construction debris. Operators of heavy machinery have to maneuver through these obstacles safely and effectively. This terrain can also be a challenge for ordinary bobcat tires. Pneumatic bobcat tires come with a high risk of being punctured or otherwise damaged on the job. Repairs and tire changes lead to costly work slowdowns, not to mention the added expense of the replacement bobcat tires.
However, high-quality all terrain solid bobcat tires can handle outdoor demolition sites with ease. Not only are they puncture-proof, but the all terrain tread pattern provides unparalleled traction and durability. Skid steer operators can navigate the demo site in comfort, with the confidence of knowing that their equipment is up to the task.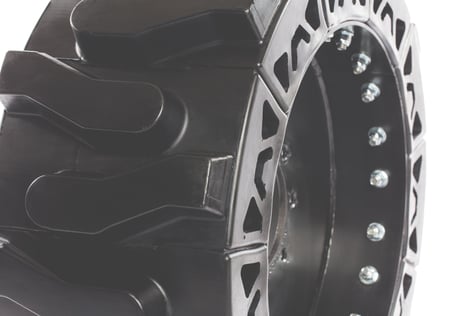 Bobcat Tires for Interior Demolition Jobs
Interior demolition is a critical component of remodeling and large commercial building tear down. Before remodeling can even begin, floors, cabinets, fixtures, and often even interior walls, windows, and ceilings, must be torn out to make way for new construction and updates. Large-scale interior demolition jobs such as those in shopping malls, sports complexes, office buildings, and warehouses may also require heavy machinery such as skid steers.
Unlike outdoor demolition, the terrain of interior work sites will likely be the solid concrete foundation or floors of the building being remodeled. A common problem for skid steer operators working on interior demo is that the hard surfaces wear down bobcat tires quickly. This can lead to frequent work slowdowns in order to swap out bobcat tires, which is both costly and inconvenient.
In order to avoid the cost and disruption of swapping out worn-down or punctured pneumatic bobcat tires during large-scale interior demolition jobs, your best bet is to invest in hard surface solid bobcat tires. High quality solid bobcat tires can handle much more wear and tear than ordinary pneumatic bobcat tires. The unique tread pattern on hard surface bobcat tires increases surface area, which further enhances the tires overall wear life. This results more efficient work, fewer tire changes and repairs, andless downtime for workers.

Reduce Costs With Solid Bobcat Tires
Overall, solid bobcat tires are a more practical choice than pneumatic bobcat tires, particularly when it comes to the high demands of a demolition site. Frequent bobcat tire changes due to damage, punctures, and wear slow down work and increase the cost/hr of your demolition job. Well-crafted bobcat tires keep costs lower by allowing your skid steer loader to work longer hours between servicing.
Skid steers are an essential part of the demolition industry. Keeping these machines running smoothly is critical to getting the job done on time and under budget. Don't waste any more time and money on pneumatic bobcat tires. Cut your costs and increase your ROI by purchasing high-quality solid bobcat tires.