The hazards of underground mining require operators to have specialty equipment and features for their machines. A skid-steer clambers over hard uneven rock all day every day for the duration of its job, and the constant rough friction wears tires out prematurely; changing out tires on a regular basis is time-consuming and definitely not cost effective. The best skid steer tire under conditions this severe needs to be a hard surface skid steer tire that can stand up to the many challenges a skid steer tire faces in underground mining applications.
Pneumatic Skid Steer Tires
vs
Hard Surface Skid Steer Tires
A skid steer doing its job moving dirt and rock must maneuver between and over sharp and jagged rocks that can puncture pneumatic tires through the sidewalls and between the treads. You can avoid this issue altogether by choosing hard surface skid steer tires instead of pneumatic skid steer tires. For air compression and operator comfort equivalent to pneumatic tires, look to premium solid skid steer tires with specially engineered aperture holes in the sidewalls; these not only reduce the stress and impact on an operator, they reduce the stress on the skid steers drive train. The design also reduces bounce - a great benefit while climbing over rocks and rough ground. The internal cross structure of this tire adds stability and the spacing of the aperture holes reduces the likelihood of stress cracking.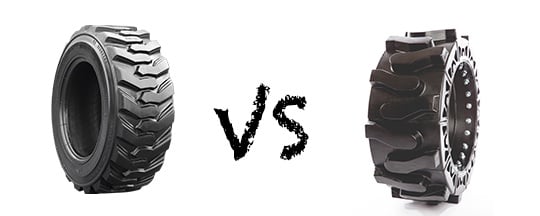 High Strength Steel vs Mild Steel
The large-scale earth and rock removal in a mine creates a chaotic flurry of dirt and tumbling rock. Skid steer tire rims are susceptible to damage from side impact from falling rocks and also suffer corrosion from the acidic underground environment created by mining.
Acid rock drainage is a natural phenomenon arising from rock weathering, a process which releases the minerals trapped in the compressed soils as the rocks erode.
This process is exacerbated by mining, releasing sulfide minerals and other often toxic metals and minerals in water runoff. Rims made with QT100 steel rather than a standard mild steel, will solve both of these issues: they resist the corrosive effect of the acidic drainage as well as withstand side impacts from falling rocks. According to SSAB maker of Strenx; a premium grade QT100 steel:
"Quench and Tempered Steel is heat-treated to develop yield strength. This is a cost effective choice for applications which require high strength, improved notch toughness, superior weldability and good forming ability, as well as good resistance to brittle fracture..."
Skid steer tires with QT100 steel in the rims are up to 20-30% lighter in weight than those with mild steel - not only providing added strength to protect against impact damage but also reducing stress on the drivetrain and extending the life of the skid steer.
Natural Rubber/Carbon Black vs Synthetic
Even with a hard surface skid steer tire, the constant wear and tear from driving over rough rocky surfaces can cause chunking of the tire tread - this is the process by which rough ground and jagged rocks cause cracking, cutting, tearing, and breaking away of parts of the tread. Besides causing flats in pneumatic skid steer tires, it wears out hard surface skid steer tires and becomes a safety issue for the operator by the machines reduced traction.
Hard surface skid steer tires made from superior compounds such as high quality natural rubber/carbon black blends are resistant to cuts and chunking from rock damage and rough use, assuring a significant increase in tire longevity, cost effectiveness, and operator safety.
Natural rubber has been shown to be much stronger than synthetic blends in tire usage. According to a study published in the IOP Conference Series: Materials Science and Engineering [1]:
"The addition of CB [carbon black] in natural rubber is very important to enhance the strength of natural rubber. The particle loading and different structure of CB can affect the composite strength. The effects of CB particle loading of 20, 25 and 30 wt% and the effects of CB structures of N220, N330, N550 and N660 series on tensile property of composite were investigated. The result shows that the tensile strength and elastic modulus of natural rubber/CB composite was higher than pure natural rubber."
This simply means that the blend is exponentially stronger than less expensive synthetics used in tire construction, which will wear out prematurely in severe job environments.
There's no doubt that underground mining conditions offer a multitude of challenges for skid steer tires to overcome, but the perfect tires for the job does exist: the Evolution Wheel EWRS-HS hard surface skid steer tires.
To learn more about hard surface skid steer tires visit the EWRS-HS Series from Evolution Wheel.