Waste transfer stations can be one of the most brutal areas to operate a skid steer, and as such a waste transfer skid steer tire needs to be up to the task. The machine spends all of its time on hard, abrasive concrete that greatly adds to the normal wear and tear that the tire endures. In addition, because people throw all sorts of things in the trash, there is a high probability that the operator will inadvertently drive the machine over something sharp and cause a puncture. Proper tire selection will minimize the wear on your investment and minimize the risks of punctures which is why hard surface skid steer tires are the optimal choice in waste transfer station.
Waste transfer stations are one area where it really does not pay to go cheap on hard surface skid steer tires. Poor quality hard surface skid steer tires that need to be replaced often add to your expense, and the downtime to change tires cuts into your productivity and profits. Let's take a look at some of the qualities that you'll want to look for when purchasing hard surface skid steer tires for your waste transfer station.
Solid Skid Steer Tires
Air-filled tires may be cheaper, but they are also prone to punctures, and a flat tire isn't worth much. When you're operating your skid steer in an area highly likely to have debris that can cause punctures, you do not want to have a tire that is going to puncture and slow down, or end your workday early. The extra investment in a solid tire is all but a requirement for working in waste transfer stations. The added cost is more than offset by the time and money saved from not having to replace flats.
If you're operating in a waste transfer station, you'll want to make sure to not only use a hard surface skid steer tire but a solid one as well.
Hard Surface Skid Steer Tires
To solve the problem of wear from hard and abrasive concrete, you should purchase a tire designed for use on hard surfaces. The wear that a surface inflicts on a tire is related to the surface area of the tire that touches the ground.
All terrain tires have treads that are designed to dig into a maximum number of, usually soft, surfaces. This means that they are great for traction on those soft surfaces, but have a minimal surface area touching the ground.
Hard surface skid steer tires are different. They dramatically increase the surface area of the treads that touch the ground and spread out the weight over a much larger area. This drastically reduces the wear on your tire and greatly extends the life of your purchase.
Hard surface skid steer tires are great for any application that routinely drives on asphalt, concrete, or other hard surfaces. But they are indispensable for use as a waste transfer tire where all of the machine's time is spent on such harsh surfaces.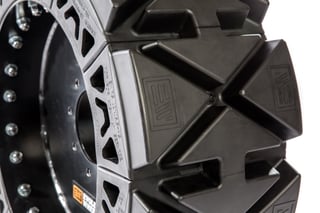 The EWRS-HS is the premium hard surface skid steer tire designed by Evolution Wheel. We've worked hard to bring the same level of quality you expect from Evolution Wheel to the demands of hard surface skid steer tire applications.
Like the EWRS-AT, its all terrain counterpart, the EWRS-HS is a solid hard surface skid steer tire designed for maximum puncture resistance. This tire has over 70% more ground contact surface area than our all terrain (EWRS-AT) series skid steer tire. The extra surface area gives an additional 30-40% of wear life over the AT version. Best of all, the EWRS-HS retains our modular design, keeping your maintenance and repair costs to a minimum due to its replacable segments.
If you are looking for a hard surface skid steer tire for your waste transfer, or a hard surface skid steer tire for any other application, we invite you to consider Evolution Wheel's EWRS-HS tire. If you have any questions about our product or how it will suit your needs, please contact us or one of our qualified dealers.
To learn more about hard surface skid steer tires visit the EWRS-HS Series from Evolution Wheel.